"Clever Men May Easily Conceal Their Motivations" – Leopards, Superman, Kipling and Coded Language
Jun 13, 2016
/
/
Comments Off

on "Clever Men May Easily Conceal Their Motivations" – Leopards, Superman, Kipling and Coded Language
"As we have recognized, 'clever men may easily conceal their motivations.'"   Just so.   This line was taken from a federal appeals court decision, and quoted in a recent race discrimination employment case.
The issue?  Whether the expression "A leopard does not change its spots" is code for racial animus.
Ok, that accounts for the leopard reference in the title; but where do Kipling and Superman fit in?
And what does this all mean?
I have written – too many times! — about coded language, often used by "clever" employers in the context of discrimination cases.  That is, language which might be understood or construed as standing in for direct evidence of racial or sexist or ageist animus.
What Is Coded Language In Discrimination Cases?
For example, last October I summarized a few years' worth of such age cases and the coded language used, which bears repeating here to remind us what fairly blatant coded language is:
"Perhaps some employers think that they can escape being caught discriminating against older people if they code their language.   Or maybe they are just used to making ageist comments because they have, as the EEOC has said, 'outdated prejudices and biases.'  Either way, these comments may be seen as code words, or perhaps in political parlance — 'dog-whistle' expressions, which are designed to 'convey a predetermined meaning to a receptive audience, while remaining inconspicuous to the uninitiated.'
"For example, you do not call an employee 'old' or 'ancient' (I once had a case where the boss referred to another employee of the same age as the one he fired as "ancient") since that is direct evidence of age discrimination. You stay away from calling an employee 'old school,' or 'set in his ways,' or 'not a proper fit for the "new environment,' or 'lacking in energy.'  And, of yes, 'Hang up your Superman Cape,' and 'get it together you f…. old people' should also be avoided (although the latter remark can hardly be considered particularly well "coded")."   The same with 'looks old,' 'sounds old on the telephone,' and is 'like a bag of bones.'"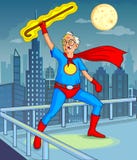 Hang up your Superman Cape!
And now for the relevance of this post's title.
The New Case
I just came across a not-so-new-anymore new decision from a New York appellate court where the only evidence of race discrimination presented by plaintiff, an African-American woman who was fired, was that the boss used the word "tirade" and the phrase "a leopard does not change its spots."
If this is the sole evidence of racial animus – what do you think? Are these two terms/phrases somehow racist in the context of this case?
The employer, for his part, claimed that plaintiff was fired because "of her long-standing insubordination and disruptive behavior," and not because of race.  "Defendant had been warning plaintiff for years that her conduct was unacceptable," and when she "was once again seen to be conducting herself inappropriately … one manager said that this was evidence that a 'leopard does not change its spots.'"
The Court, while noting that "the use of what plaintiff characterizes as racially 'coded language' by her supervisors sufficiently call into question defendant's reason for firing her," nonetheless denied summary judgment because "the question is whether that [adverse employment] action was motivated, in whole or in part, by racial discrimination," and that the employee "failed to raise an issue of fact as to whether her supervisors' use of the phrase a 'leopard does not change its spots' or the term 'tirade' amounted to racially coded language."
The Court's Discussion Of The Language Alleged to Be Racist
As someone who has written so often on this subject, I was fascinated by the Court's discussion of coded language, and the etymology of the language in this case.   I quote the Court at length since this discussion is worth pondering:
"It is true that discrimination seldom announces itself openly (see Vega v. Hempstead Union Free Sch. Dist., 801 F3d 72, 86 [2d Cir 2015], quoting Robinson v. 12 Lofts Realty, Inc., 610 F2d 1032, 1043 [2d Cir 1979] ["As we have recognized, 'clever men may easily conceal their motivations'"]).  For that reason, it is important that discrimination plaintiffs be permitted to present a wide range of indirect evidence of discrimination, including the fact that a defendant (or its agent or employee) used coded language, that is probative of discriminatory intent. While some language is unmistakably reflective of the presence of race or other protected class status in the mind of the speaker, in many other cases meaning is context-dependent, as the motion court correctly pointed out.
"The most significant language in question is the colloquial expression, 'A leopard does not change its spots.'  The record contains two emails in which plaintiff's supervisors used some variation of this expression.  Plaintiff points out that, at the turn of the 20th century, the phrase was used in a racist fashion in a novel by Thomas Dixon, Jr. (The Leopard's Spots [1902]) and in a Joseph Rudyard Kipling tale (Just So Stories, How the Leopard Got his Spots [1901]).  [NB: so THAT'S where Kipling fits in!]
"However, plaintiff offered no evidence from which to infer that the expression is imbued with racial meaning in contemporary parlance. In fact, today it is commonly understood to mean that a person's pattern of behavior tends not to change (see Random House Dictionary of America's Popular Proverbs & Sayings 201 [2d ed 2006] ["Human nature is as fixed and unchanging as the spots on a leopard's skin"]; The American Heritage Dictionary of Idioms 265 [2d ed 2013]). The racially derogatory meaning the expression 'a leopard does not change its spots' may have had more than 100 years ago is too attenuated, without more, to permit a discriminatory meaning to be imputed to a speaker whenever the expression is uttered today.
"The other term on which plaintiff relies, 'tirade,' is even less probative of pretext, since unlike the 'leopard's spots' expression it has no historically racial meaning and is entirely race-neutral (see Merriam-Webster's Dictionary [online ed 2015] ["tirade" defined as "a protracted speech usually marked by intemperate, vituperative, or harshly censorious language"])."
Takeaway:   Context, and what is considered "contemporary parlance," are indeed important.  Even if an expression was founded in discriminatory animus, a long "attenuated" history and the changing usage in "the parlance of our times" [thanks, Maude Lebowski!] can surely obscure and neutralize the earlier meaning to the point that the utterance today, without more, is insufficient as evidence of discrimination.
But every utterance must be considered in context and on a case-by-case basis.
(And the title above was fully explained, and even "The Big Lebowski" rated a comment!)